Credit cards
We accept all major credit and debit cards, for example Visa, Mastercard, American Express, JCB or Diners Club.
When paying by credit card your account will be charged after your order has been shipped. As it appears on your card you will need your card number, the expiration date, your name and the card verification number. Your card verification number is used by your bank as an additional security. The card verification ensures the credit card is present at the time.
With VISA and MasterCard you will find the 3-digit verification number on the back of the card. With American Express you can find the 4-digit verification code on the front and printed slightly offset.
To increase security, the 3D Secure mehtod is used by Visa and MasterCard for some cards. The system checks weither the card participates in the 3D security programs "Verified by Visa" or "Verified by MasterCard SecureCode",this is specially designed for verification and authenticity of the cardholder. You may be asked to apply for or to provide a secure code (personal password). We have no authorities over 3D Secure verification process. If you don't know your personal 3D security password, we recommend to contact your bank or choose another payment method such as Paypal or bank wire.
For more information on credit card security practices, please visit: Verified by Visa or Mastercard SecureCode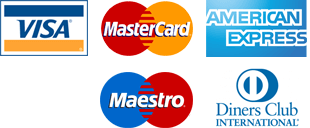 Bank Wire
If you choose bank wire as your method of payment to complete your order, you will receive an order number and our bank details in an automated email.
Please transfer the total amount immediately after you complete your order including your order number tot the following account:
Account holder: Fashionesta GmbH
IBAN: DE17300501101004635213
BIC DUSSDEDDXXX
Bank Name: Stadtsparkasse Duesseldorf
Bank Address: Dusseldorf, Germany
Your order will be processed and shipped once your payment has been credited to our account. Please note that international transfers may take up to 3 business days.
Paypal
Please have your login details handy as you will be redirected to the PayPal website during the payment transaction. Please follow the Button, which will redirect you to our website, once the payment has successfully been done.
Please be aware that the delivery address typed in on the Fashionesta website will be ignored and we will use the veirified delivery address that features on your PayPal account.
You don't have PayPal?

No Problems - just follow the instructions on the www.paypal.de and register your account for free before you continue with your purchase.